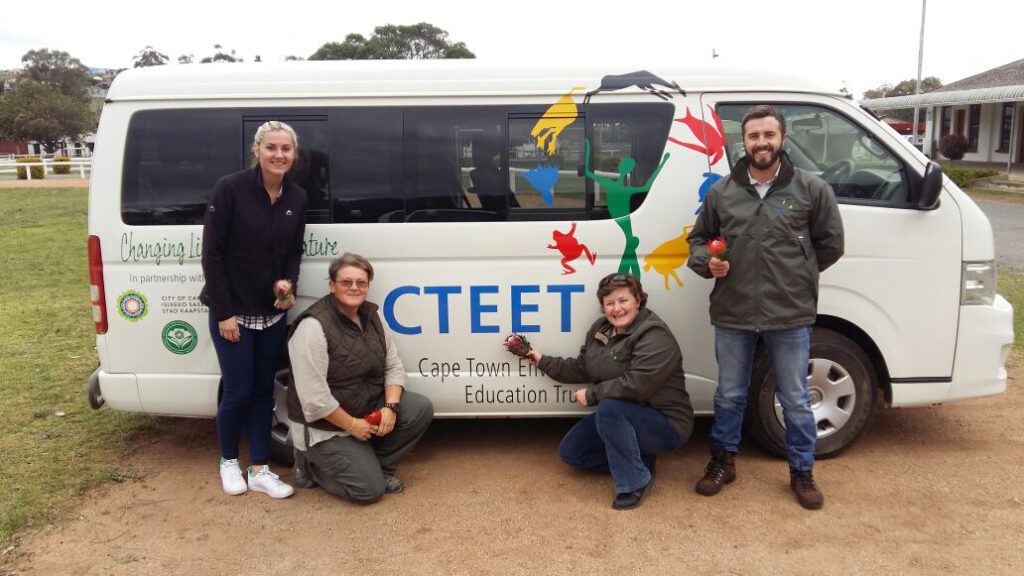 This year the annual Fynbos Forum was held at the Swellendam Showgrounds and we were proud to be represented by five CTEET members.
Petro Botha's presentation was on the Gantouw Project, titled 'Taking urban conservation by the horns – the four legged approach.' Her fascinating presentation showcased the impact that the Gantouw Project eland are having on the effects of bush encroachment at the Rondevlei Section of the False Bay Nature Reserve. She says that "Fynbos Forum 2017 was an unforgettable experience – making contact with people in the conservation field, gaining knowledge, experiencing the Haarwegskloof Renosterveld Reserve and having fun with fellow colleagues."
Louis Van Wyk, the Site Manager of the Atlantic Beach Golf Course Conservation Area thought the Fynbos Forum offered a wonderful opportunity to present a challenging management matter and receive practical feedback. "It was a great learning experience and presented the opportunity to engage and network with researchers, managers, landowners and a range of other stakeholders. Biodiversity is under major pressure globally and conventions like the Fynbos Forum is vital to ensure the conservation and sustainability of the fynbos biome." His presentation was titled "Living alongside meso-predators on an eco-sensitive estate" and addressed the issues surrounding caracal occupancy on the eco-estate and their influence of domestic cats and small herbivores.
Andrea Von Gunten, Site Manager of the Muizenberg East Biodiversity Cluster presented a poster on the results of using camera trap as a tool for wildlife monitoring on fragmented habitats within an urban environment, and CTEET student Fabrice Turikumwe presented a poster on his study on introducing Hippopotamus into the Rietvlei section of Table Bay Nature Reserve. Andrea said "this was my second time attending the Fynbos Forum but first time representing CTEET. I always enjoy networking with environmentally like-minded people at these types of conferences as one can always learn a great deal from the more experienced legends in the industry! So much knowledge to go around but not enough brain space to save it! I walked away feeling revived and inspired."
Training and Development Manager Louise Matschke won Best Presentation Runner Up (Open Section) for her talk on "Changing lives through nature. Reconnecting people to nature; the CTEET crèche to career model explained". Her presentation took a thought-provoking look at how our current lifestyles are resulting in an alienation from nature and how CTEET has a multi-faceted approach to changing lives through nature.