Life Under the Sea at our Marine Art Exhibition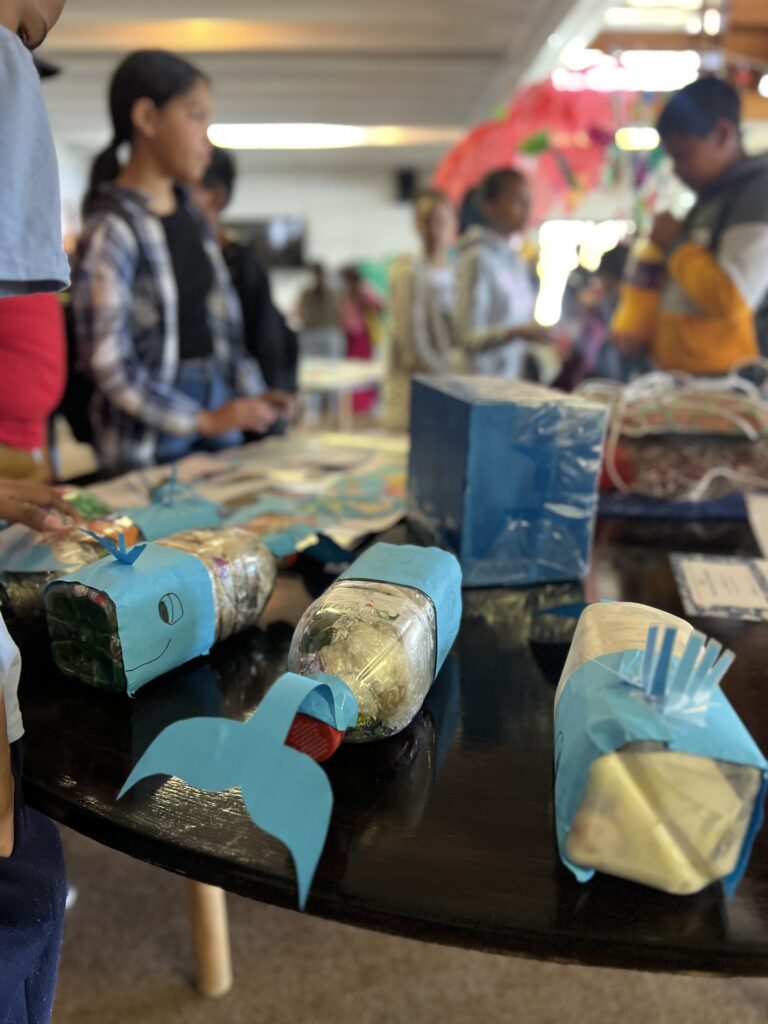 Written by Marilize Morren
On the 14th of October 2023, our Sustainable Schools team hosted an Exhibition Action day in celebration of National Marine week, at the beautiful Zeekoevlei Yacht Club.
We received over 100 art entries from Battswood Primary, Harmony Primary, John Graham Primary, Spineview Primary, Westville Primary, Hope of Africa, as well as entries from the high schools Meridian Pinehurst and Fairmont High School. We had an amazing turnout of 92 learners attending on the day, and it was a festive affair with parents and teachers attending to observe the masterpieces of our aspiring artists. 
A big contribution to the excitement in the air was the exceptional panel of judges. Our honourary guests were:
Davis Ndungu

: well-known for his groundbreaking work as the creator and founder of Recycled Flip Flop Sculptures Studio. He spreads environmental awareness through his sustainable art, and even had some of his impressive sculptures on display at the exhibition.

Céline Tshika

: a Congo-born, South-Africa raised actress and song-writer. Currently, she voices the role 'Marjory' in Netflix's first African original animated series 'Supa Team 4.' 

Cleo Droomer:

a Multi-award winning designer from Cape Town. He creates garments that merge art and storytelling, as he reimagines fashion's role in the future of the planet.

David Oertel:

currently a visual arts lecturer at the Two Oceans Graduate Institute. He also judged school artworks for eisteddfods and finals for many years across the Western Cape.

Our very own

Tamsyn Henshall:

as our Resource & Platform Curator, she designs all the learning material and resources on our Sustainable Schools Hub.
The day was kicked off with an environmental education session outside on the lawn, where the learners learnt about the threats to the marine ecosystem. This was followed by a game of relay where the learners were teamed up and had the task of matching various human activities to their corresponding marine threats.
Thereafter the day flowed into showcasing the various art categories. The performing arts category included a three part performance by John Graham Primary, which included a Dance for the Penguins, and was followed by a performance by Westville Primary about Mermaid and Merman littering in the ocean. The 2D and 3D visual arts categories showcased exceptional levels of creativity with sculptures of underwater creatures from various materials such as clay, paper mache and recycled materials, dioramas, and even a beach-umbrella sized structure depicting the dirty dozen – the 12 most common plastic items found on our beaches and rocky shores. Spineview also created a colourful collection of recycling bins from cardboard, showing us how easy it is to implement recycling stations in our classrooms.
Schools went all-out for our Fashion Category, with Meridian Pinehurst making a dress from all the late-slips they collected over a period of 8 months, Westville making a handbag from chip packets, and Fairmont High School creating a beach hat from recycled plastic bags.
We had a special award dedicated to the piece that showed the most creativity in the marine theme. This prize was awarded to Westville for their life-sized sea turtle made from recycled materials with an impressive depiction of the impact of litter on our marine life. 
It was a magical day, seeing how the learners' creativity were expressed in the various forms of art, along with the strong awareness of marine threats that was displayed throughout the art pieces.
"I loved how interactive it was and the platform that was created for the kids to get creative and display their creative side." ~ Ms Hesqua, Westville Primary School
We would like to extend a special thanks to PNA for sponsoring a voucher as a prize for the overall winner. Thank you also to the Zeekoevlei Yacht Club – the stunning venue was the perfect backdrop to bring our learner's art pieces to life. And lastly, a huge thank you to our incredible judges: Davis Ndungu, Céline Tshika, Cleo Droomer, David Oertel and Tamsyn Henshall. It was amazing to have you involved in our exhibition as leaders in using your art to create environmental awareness. You were an inspiration for our aspiring artists to use their creativity to make impactful art.
From the lyrics of Samuel E. Wright, a final ode from us to National Marine Week:
"Life under the sea

Is better than anything they got up there

Just look at the world around you

Right here on the ocean floor

Such wonderful things surround you

What more is you lookin' for?"