Introducing KZN partner, One Planet SA.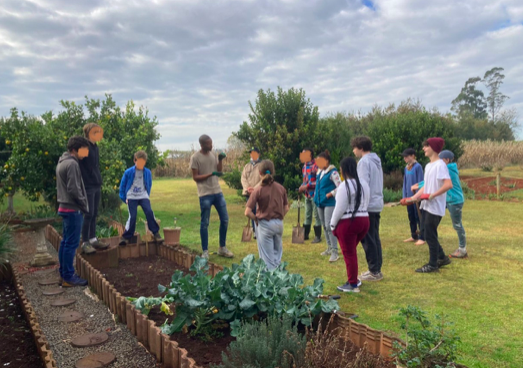 One Planet officially became the KZN partner for Nature Connect's Sustainable Schools Programme this April. One Planet easily applied the Sustainable Schools framework since they have been working with 10 schools on their sustainability journeys for the past few years.
We are so excited that they already have 26 registered schools within a short time frame and have supported 100 in-school support visits between Jan and August 12, 2022.
Here are just a few of their fantastic school success stories:
Bambanani Primary in the Emazizi region of the Drakensberg, Grd 6's celebrated World Water Day and month by learning about the incredible biodiversity in our freshwater ecosystems. In particular, macro-invertebrates were of interest. After learning about food webs and chains and how to use a dichotomous key for classifying the invertebrates, learners were equipped to go out into the field and test their local Bambanani stream. Sadly it scored low on the miniSASS, which was attributed to high levels of soil erosion and disturbance in the area. Mr. Mavundla, the Science teacher, commented on how valuable this practical had been in helping learners get hands-on and real-life experience, supporting the curriculum simultaneously. We want to instill care for nature in our learners!'
Hawkstone, Triandra, and Corrie Lynn Primary Schools. One of the things we can all do to help with the climate crisis is to PROTECT, FUND, and RESTORE NATURE. This is just what Triandra, Hawkstone, and Corrie Lynn Primary Schools did. After an engaging lesson on Biodiversity and Ecosystems games, they all went out and conducted a simple biodiversity audit on the school 'field' vs. a natural or wild grassland area. The results were astonishing 1 or 2 species on the conventional field versus 10 different grassland species in the 'wild' area. They then went about on a school BIODIVERSITY RESTORATION PROJECT and planted up to 20 local plant species creating a garden and 'biodiversity hotspot or haven' for other creatures to live. For the next few weeks, they will monitor what groups of animals they find – how rewarding to go from Zero to Hero all in one morning – restoration projects are always rewarding!
Public education systems have a lot of room to improve in terms of sustainability consciousness. By promoting sustainability in schools, our programmes will create a generation of people more attuned to protecting the environment. We are incredibly excited to expand the programme in other provinces and grateful for partners like One Planet who make that a reality!
To see what One Planet is up to in Kwazulu-Natal, follow them on Facebook: https://www.facebook.com/oneplanetsa  and Instagram: @Oneplanetsa.