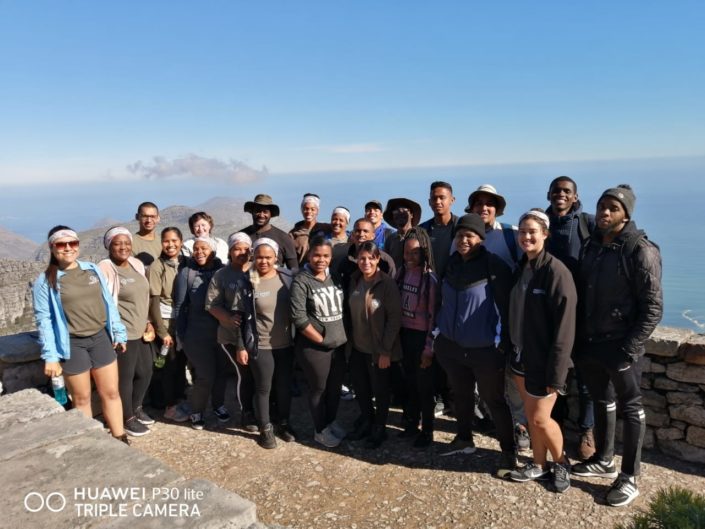 On Top Of The World
On Thursday 13 June we held a farewell hike up Table Mountain for the 2018/19 Nature Conservation Interns and Learnership participants. The group has just completed their year-long programme based at City of Cape Town nature reserves and this was the perfect way to celebrate it. It was a great day for hiking because the air was cool and the sun was shining – a lovely winters day!
For some learners, this was their first time ever hiking, and many had never hiked Table Mountain before. We adventured up the Platteklip Gorge trail and had many pit stops for water along the way. There were even some waterfalls where we could refill our bottles with fresh mountain water.
Some found the hike more challenging than others due to different fitness levels, so when we finally reached the top, it was extremely rewarding! Once we got to the top, our Education & Training Manager Louise was waiting for us with lunch, yay! After a little bit of exploring on top of Table Mountain, and of course lots of pictures, we made our way to the cable car. We were really lucky to get sponsored tickets from the Cableway – thank you! Again it was a new experience as many learners had never been on the cable car before. Everyone was buzzing with excitement while we made our way down in the cable car, taking in the beautiful sights of Table Mountain. Once at the bottom we all said our farewells and journeyed home after a fun day on the mountain.
These are what some learners had to say about their day:
"I had a really great experience during the hike up Table Mountain. It was my first time hiking there. I was anxious at first because I did not know what to expect, but when I started it felt so relaxing seeing the beauty of nature and the route we took was really safe and secure. It was one of the best experiences I ever had and I am so thankful for this opportunity…. It made me realize there is so much more to life. I just want to experience and see more things in the world!!!" – Jolene
"What I really liked about the hike was the scenery on the mountain and all the plants we passed with all the different colors and smells and the weather was just right to hike" – Jared
Written by Tevya Lotriet